ABC Company Ltd. is a client of Acheva & Associates, which offers financial services including but not limited to bookkeeping, business solutions, and business advisory. ABC Company Ltd. is headquartered in U.K. with over 20 employees. It mainly operates on domestic import and export trading of vehicle prototype testing molds, auto components, and 3D printing products.
During the engagement, consultants from Acheva & Associates learnt the following situations regarding expense claims when they were sorting out ABC Company's overall financial and business control processes. As sales and technical staff traveled frequently and given the fact that the company lacked clear expense claim protocol and approval procedures, instead rely totally on paperwork, which were transferred among department heads, financial staff and accountants.
ABC Company's process for handling expense claims was as follows:
At month-end, employees fill in expense claim forms manually and attach hard copy invoices with the forms;
Department manager is required to approve for employees' expense claim forms;
After department manager's approval, employees are required to submit hard copy forms and invoices to financial department, where financial staff will check the forms and invoices manually and sign as an approval;
After financial staff's approval, expense claim forms will be handed to the general manager. Should the general manager confirm the claim, he/she will need to sign as an approval too;
After general manager's approval, financial staff then submit those forms to cashiers for payments;
At month-end, accountants from Acheva & Associates will obtain said expense claim forms and invoices of the current month and proceed with proper accounting treatments.
After careful and holistic analysis, Acheva & Associates consultants detected the following issues and potential risks on ABC Company's expense claim procedure:
Since form submission occurs at month-end, it is easy for employees to forget certain expense entries or lose respective invoices;
It is inconvenient and time-consuming for employees on business trips or who work remotely to claim their expense, as they need to head back to the office to fill in forms and attach hardcopy invoices;
If department manager is out of office,  approvals will be delayed, hence prolonging the whole approval procedure and final payment;
The current procedures do not allow rooms for employees to track approval progress and status, nor is it possible for ABC Company to attain employees' payment received confirmation;
Since the gap between expense claim submission and expense incurred date is quite long, employees may take advantage of it and claim extra expense, or attach Invoices that exceed the preset acceptance time frame, or rather fake invoices;
It has became more difficult for financial staff to examine invoice authenticity and remove duplication nowadays, as e-invoice is developing rapidly and enables employees to print invoices on an A4 paper to claim expenses in duplication or and process falsify them with Photoshop, etc.
Accountants from Acheva & Associates have to input expense claim data manually before proceeding to any accounting treatments.
Based on the above issues and potential risks, Acheva & Associates consultants optimized ABC Company's  procedure in combination with mobile expense claim solution. After the mobile expense claim system went live, ABC Company's management efficiency was enhanced in the following areas:
Employees could record expenses to-be-claimed anywhere and anytime, by photographing invoices and submitting expense claim forms to the system, which will help to lower the possibility of missing expense entries;
From employees' perspective, the system saves massive amount of time for them, as they could submit expense entries anywhere and anytime without any delay, print them all out at once at month-end with attached hardcopy invoices;
From department manager's perspective, he/she could approve expense claims anywhere and anytime too, which enhances approval efficiency;
Employees could track expense claim status anywhere anytime, and the Company could follow payment confirmation with employees in a timely manner;
The Company could require employees to submit claims in time through the system, so as to avoid unauthentic claims; From the Company's perspective, a mobile expense claim system is conducive to strengthening its management and control on employee claims, hence avoiding dishonest acts. For example, the Company could impose requirements on employees to photograph and upload invoice within a certain time frame, therefore, management could examine the gap between time chops of invoice photos and actual expense incurred time to determine expense claim authenticity.From the financial analysis perspective, timely  submission enhances the level of authenticity of financial statement data.
The mobile expense claim system could check e-invoice duplicates and authenticity automatically, so as to avoid repeated usage of the same invoices;
For accountants from Acheva & Associates, the system saves them from repeated manual data input, hence saving bookkeeping time and cost.
The following chart reflects the optimized approval and financial bookkeeping procedures of ABC Company: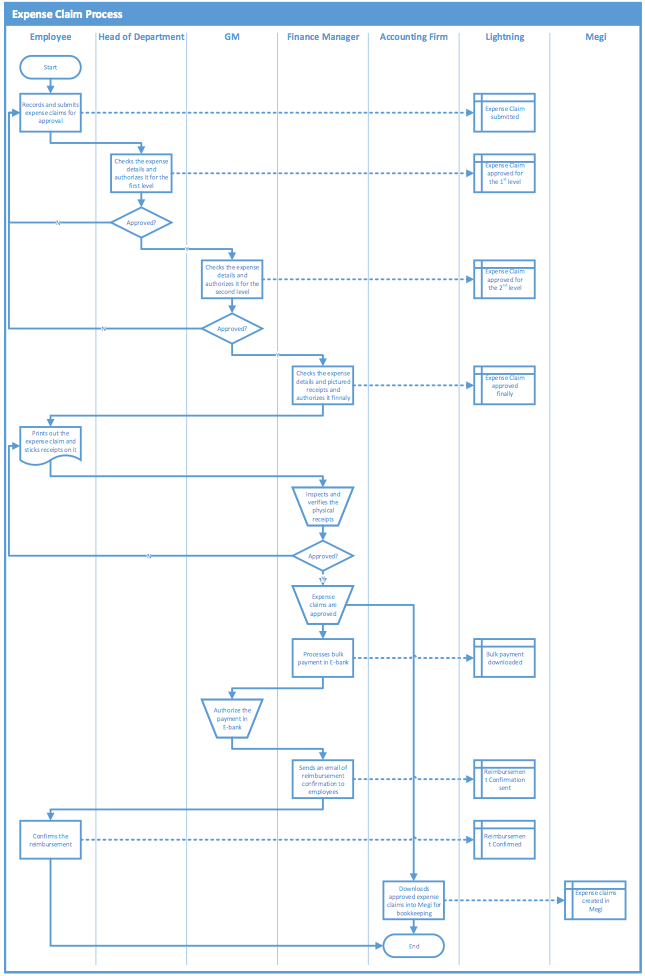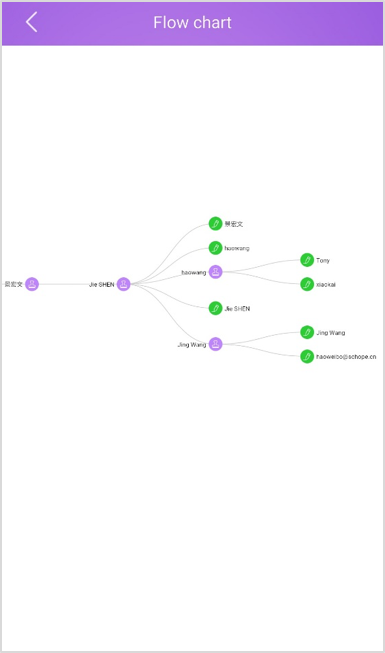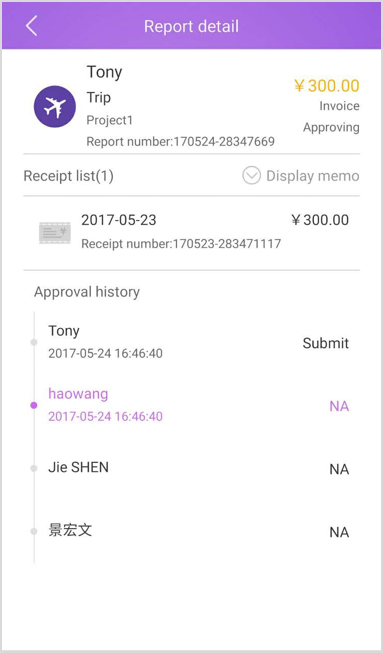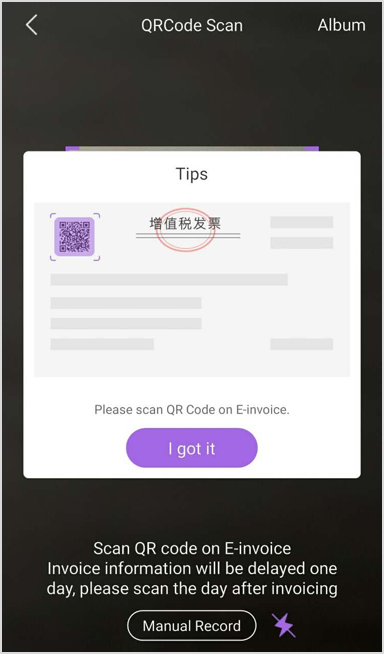 Employees could record entries into the mobile expense claim system anywhere and anytime, where approval status could be tracked throughout the whole procedure.
Accountants from Acheva & Associates could sync approved expense claim forms to Megi Cloud Accounting system by clicking buttons on Lightning expense claim system website.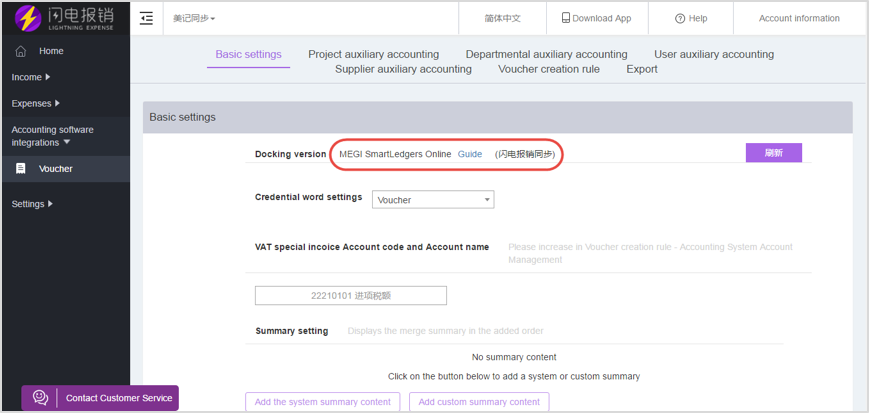 After synchronizing to Megi Cloud Accounting system, accountants from Acheva & Associates could check draft expense claim forms though Megi and generate vouchers by clicking only one button to approve, after reconciling source documents and expense claim data.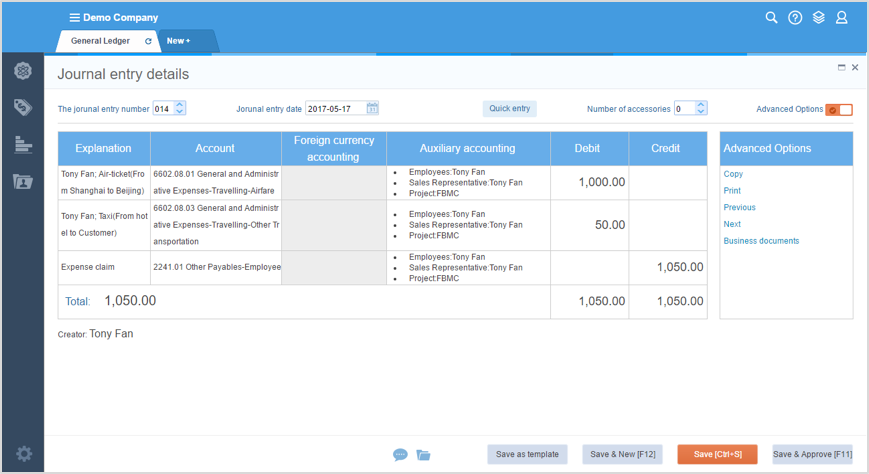 Acheva & Associates provides business services and SAAS implementation services. View our services page for more details.