This case study tells a story of one of our foreign business clients who approached us asking for help with a very typical requirement which arise commonly after the break of Covid-19. The expat owners want to leave China but they still own a business running well in profit and at least will stay that way for the foreseeable future. The owners expect their business to run more autonomously but still be kept well under their supervision and controlling while they physically stay remotely. We normally will conduct a close study of the business in an array of strategic and functional dimensions, and will provide holistic solutions by leveraging a range of expertise derived from years experiences of our team in servicing foreign business clients in a variety of industries. 
Foreign Couple Selling Women's Apparel on Taobao Turn to Douyin Amid Profitability Issues and Seek Help on Repatriating Funds and Leaving China
Eileen and David are a foreign couple living in China. They are selling women's apparels on Taobao platform, and their business was running very well for the past 2 years. Eileen, who is a KOL on social media platforms, is also running her own advertising business by posting videos on her social media accounts and leveraging a large number of followers she cultivated over many years. But recently, the couple encountered some problems and they turned to us for help:
The shrinking traffic, high platform fee and high-frequency promotional campaigns of Taobao platform makes their business less and less profitable. They have made up their mind to try on Douyin platform in response to the tendency of traffic shifting from the traditional platform to the new ones like Douyin.
The profit they make sits on the company bank account, and they don't know how to repatriate the money out of China.
They have a 4-year-old kid who will go to school in 2 years. They plan to go back to Europe when the kid turns to 6. The business has been running quite well, as they are intensely involved to steer and manage. How shall they depart China while keep the profitable business here.
4 Key Elements to Ensure Autonomous Business Operations When Departing China
After listening to the problems that the couple is facing, we list 4 key elements, which should be properly dealt with to leave their business run autonomously after they depart China.
Operational processes and internal control procedures should be restructured, so that a well-established administrative system is in place and the business owners don't need to devote significant amount of time watching out the daily intricacies. They should be able to confidently supervise the business remotely.
A capable and reliable local team with proper share incentives to run the business on the ground.
Areasonable shareholding structure to repatriate money to overseas (through service fee, royalty, or dividend).
The financials of the business should be kept transparent to the owner.
Preparing to Leave China: 2-Year Plan for a Profitable Business and Smooth Exit
Based on the above key elements, we make the following suggestions to Eileen and David for them to get prepared to leave China in 2 years:
1. 2-year plan to make the business more profitable and well established 
We encourage the couple to try Douyin platform as Douyin is incentivizing famous brands as well as KOLs on Taobao to open stores on Douyin by channeling large volume of traffic to them. Their business of selling women's apparels will definitely boom in a short period of time. In the meantime, they can take measures to cultivate followers of their brand and convert Douyin traffic to their own "private traffic". The reason for doing this is that Douyin is a platform for livestream selling and owners of Douyin stores are deeply involved in livestream to competing with other stores to get traffic. By cultivating their private traffic, they can still maintain their business in the event of having to get rid of Douyin platform when they leave China.
Eileen's advertising business (we media) is not subject to the geographical restrictions, so it remains viable even if she is back to the home country. The "we media" + "private traffic" shape a sound business model after they leave China.
Our work for this 2-year plan is to help with setting up sound management and internal control system for smooth business operation and minimized probability of fraud.
2. Repatriate money overseas: shareholding restructuring  
Currently, Eileen and David operate the business via 2 legal entities in China, and the structure is as belo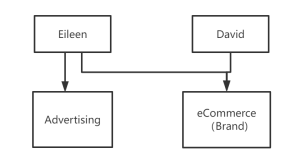 The benefit of this structure is that Eileen and David don't need to pay Individual Income Tax (IIT) when they receive dividend from the Advertising Company and eCommerce Company. However, there are also drawbacks and potential risks:
The uncertainty of the IIT exemption policy for foreigners getting dividend from a WFOE. It's unclear how long the policy will remain valid.
Foreign investors cannot get the dividend payment until the annual audit and annual tax filing is completed (generally at the end of May of the following year).
In this case, we propose to restructure the organization of the business:
In the new structure, the eCommerce Company will be using the brand of the Brand Company, and will pay royalties to the Brand Company on a monthly or quarterly basis. The Holding Company will be receiving the dividend from the eCommerce Company and the Advertising Company on an annual basis
The benefits of this structure are:
Setting up a Brand Company which is an overseas entity and operates independently to other companies to protect the Brand developedby the couple.
Profits made in China can be repatriated to overseas timely, in plausible fashion, and in compliance with local statuary requirements.
3. Get business running autonomously: Share options offered to key Chinese employees
After developing new platform for product sales and optimizing the organization structure, it's critical to have a reliable team on the ground to keep the business running. We further advise that a share option plan can be granted to key Chinese employees as incentives.
The shareholding structure would be like:
The key staff will be the shareholders of the business organization highlighted in red, and their bonus is determined by the performance of the eCommerce company. In addition to the bonus, they can get dividend from the eCommerce company as shareholders. The new structure ties the financial interest of the key staff with the performance of the business to make sure they are sufficiently incentivized to make contributions to the business after the couple are back to Europe.
4. Financial transparency
We are engaged to help with controlling the daily operation and monitoring the financial performance of the business. We perform the business bookkeeping with the cloud-based accounting system, allowing the owners to have full visibility to the financials of the business over time even they are outside China.
Get in touch
Aepoch Advisors is a cloud accounting and advisory practice servicing foreign businesses in China. We take care of your compliance, setup software solutions and help oversee financial side of your business. You are freed to focus on exploring the amazing business opportunities in China.
The management and service team of Aepoch Advisors are previously CFOs at large MNCs, experienced veterans from international accounting firms and Senior ERP implementation consultants. We come together sharing a common opinion about the impact of cloud computing on modern accounting practice.
Our mission is to offer you instant access to business information, enabling you to keep pace with the fast-changing environment and take advantage of opportunities as they arise
Contact us:
+(8621) 6157 7345
© Aepoch Advisors [2022] 
Unauthorized use and/or duplication of this material without express and written permission from this site's author and/or owner is strictly prohibited. Excerpts and links may be used, provided that full and clear credit is given to Aepoch Advisors with appropriate and specific direction to the original content.